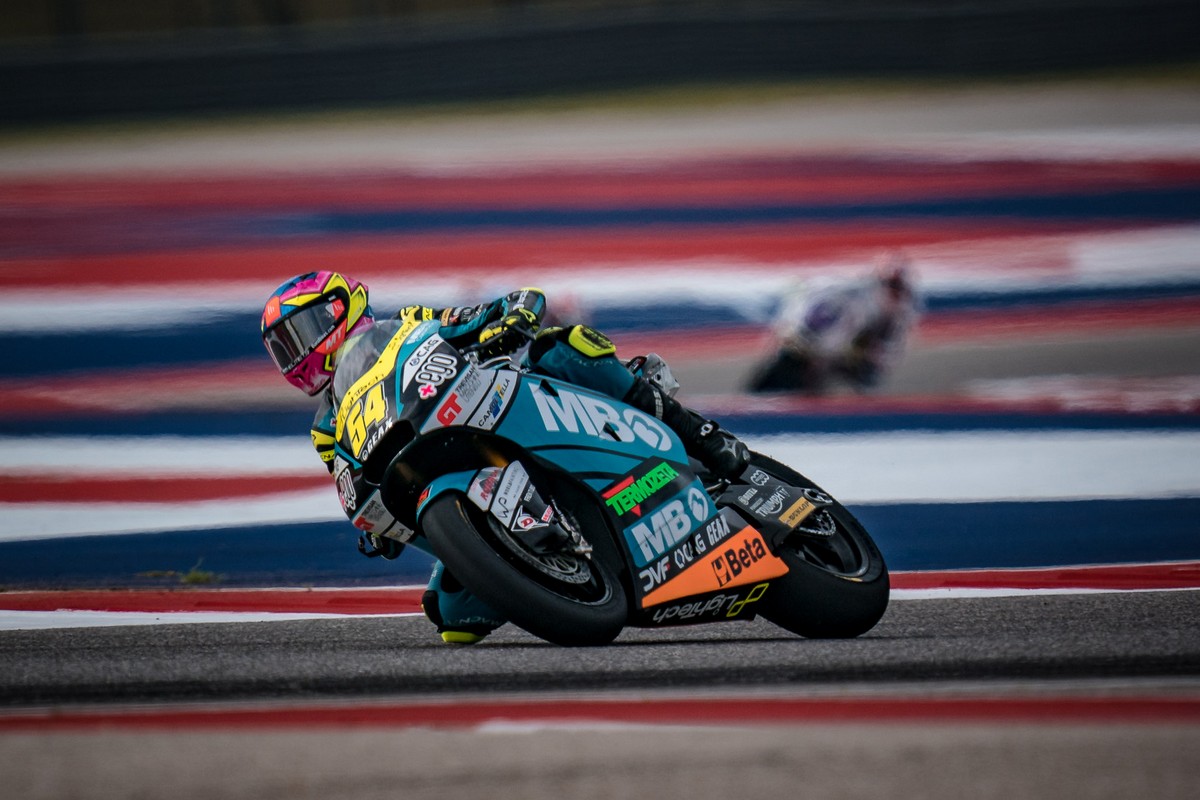 MB CONVEYORS SPEED UP
QUALIFICHE: SESTA E NONA FILA PER I PILOTI DEL TEAM MB CONVEYORS SPEEDUP
I piloti MB Conveyors SpeedUp sono tornati in azione al Circuito delle Americhe per determinare la loro posizione sulla griglia di partenza della gara di domani.
Weekend di alti e bassi per Navarro. Il pilota valenciano ha superato i problemi elettrici avuti ieri con una buona FP3 nella quale ha trovato il feeling giusto ottenendo l'accesso diretto alle Q2 grazie all'undicesimo tempo in 2'10.266, segnato a fine prova. Purtroppo una scivolata ad inizio qualifica ha compromesso la lotta per le prime posizioni della griglia. La squadra 9 partirà domani dalla sesta fila in p17.
Giornata abbastanza positiva per il giovane Aldeguer nonostante il risultato finale. Fermín, al suo primo GP delle Americhe, ha dimostrato continuo progresso durante ogni sessione disputata in un circuito lungo e tortuoso migliorando anche in qualifica il suo miglior giro e riducendo il gap. P25 e nona fila per il numero 54 e la sua squadra nella gara di domani.
JORGE NAVARRO #9: 17° in 2'16.506
"Una giornata strana. Questa mattina finalmente siamo riusciti a girare per tutta la sessione e le sensazioni in pista erano buone. Purtroppo al primo giro della qualifica sono caduto, ma sono subito risalito in moto ed ho continuato a girare senza rientrare al box e senza rendermi conto che si era rotto un pezzo. Quando mi sono accorto che qualcosa non andava era troppo tardi per fermarmi. Mi spiace per questo errore, ad ogni modo domani ce la metteremo tutta per fare una buona gara".
FERMÍN ALDEGUER #54: 25° in 2'10.567
"Un giorno un po' complicato ma guardiamo il lato positivo: siamo sempre più vicini e stiamo migliorando ad ogni uscita in pista. Non sono riuscito a chiudere nessun giro perfetto, ma ho comunque migliorato il mio tempo e questo è sicuramente positivo. Domani possiamo affrontare la gara con l'obiettivo di arrivare nei primi quindici, e quindi lotteremo per raggiungerlo".
MB CONVEYORS SPEED UP
QUALIFYING: SIXTH AND NINTH ROW FOR THE MB CONVEYORS SPEEDUP RIDERS
MB Conveyors SpeedUp riders went back to action today at the Circuit of the Americas to determine
their position on the starting grid of tomorrow's race.
Weekend of ups and downs for Navarro. The Valencian rider overcame the electrical problems he had yesterday with a good FP3 in which he found the right feeling, gaining direct access to Q2 thanks to the eleventh time in 2'10.266, scored at the end of the session. Unfortunately, a crash at the start of qualifying compromised the fight for the top positions on the grid. Team 9 will start tomorrow from the sixth row in p17.
Quite a positive day for the young Aldeguer despite the final result. Fermín, at his first GP of the Americas, showed continuous progress during each session held in a long and winding circuit, also improving his best lap in qualifying and reducing the gap. P25 and ninth row for number 54 and his team in tomorrow's race.
JORGE NAVARRO #9: 17th in 2'16.506
"A strange day. This morning we were finally able to run for the whole session and the sensations on track were good. Unfortunately, I crashed on the first lap of qualifying, but I immediately got back on the bike and continued to ride without returning to the garage and without realizing that a piece had broken. When I realized that something was wrong it was too late to stop. I'm sorry for this mistake, in any case tomorrow we will do our best to have a good race".
FERMÍN ALDEGUER #54: 25th in 2'10.567
"A somewhat complicated day but let's look on the bright side: we are getting closer and better with each outing on the track. I wasn't able to finish any perfect laps, but I still improved my time and this is definitely positive. Tomorrow we can face the race with the aim of finishing in the top fifteen, and therefore we will fight to reach it."